What can a 12 V solar panel do? How can it help us?
Below are some examples how 12 volt solar panels are described in BatteryStuff.com…
Sunlinq 12V 25 Watt Solar Panel Foldable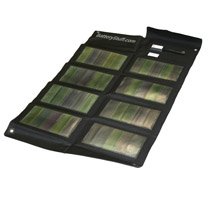 Durable, Lightweight flexible and foldable solar panels designed to maintain and charge your 12 volt battery and power most of your portable electronics. Ideal for all types of marine, RV and outdoor applications.
Note:  If you intend to power a laptop computer with this panel, you will need additonal items. You will need: An auto/car adaptor to up convert the 12 volt output of this panel to the voltage that your laptop requires(check with your computer manufacturer), a solar controller with the correct hookups(GS12v7A), a Y adaptor cable to go from the controller to the female ciagarette lighter adaptor, and a small battery to act as a buffer to 'clean up' the power from the panel.
12 Volt Solar Street Light
The Solar Eye, Street Light is an intelligent outdoor lighting system. The Solar Eye combines a super high efficiency solar panel, controller, infrared sensor, lithium battery, and an LED into a compact containing housing. Using a 12 watt panel, the Solar Eye recharges the internal Lithium battery during the day, and is powered by the Lithium battery during the night.
12 Volt Solar BatterySaver IMob 2.2 watt
This is an excellent battery maintainer that will keep a battery topped off when the vehicle is not in use. We recommend the BatterySaver SE for most standard automobile battery applications, SUV, Light Truck, Van, etc.